Artificial intelligence is growing rapidly nowadays and offers great support to people in all areas of business and the economy. AI is a general term that describes a variety of machines and algorithms that simulate human cognitive functions. With AI, computer-assisted decisions are made faster due to the much faster data processing speed of computer systems.
What is Credit Score AI?
AI powerful credit rating solution uses more data to provide individual credit ratings based on factors such as current income, job opportunities, recent credit history, and ability to earn in addition to old credit history. Credit scoring is a statistical analysis used to determine the creditworthiness of an individual or the owner of a small business run by the owner.
The traditional credit scoring model uses a performance measurement method that considers various factors including payment history, debt burden, length of credit history, type of credit used, and current credit inquiries.
Benefits of AI credit scoring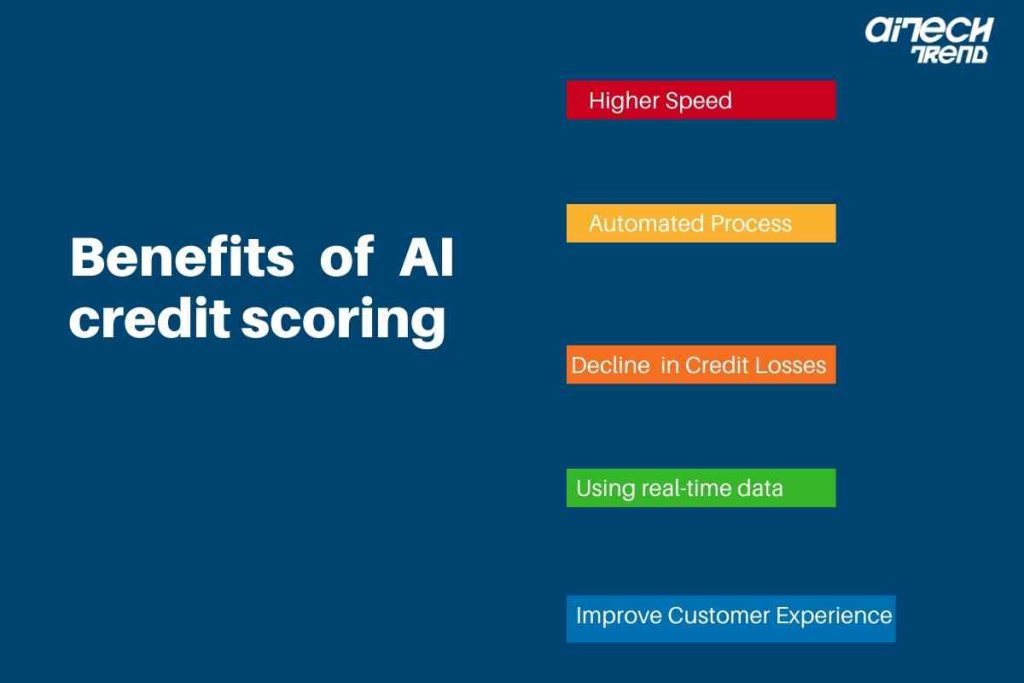 Artificial Intelligence for Credit Risk Management in Banking and Finance
Chatbots, automated control systems, and self-driving vehicles – AI together with ML make this possible. Through its use in online credit checks, consumers can examine various data points about borrowers, including their payment history and economic behavior. Not to mention, the software improves the accuracy of banking operations and speeds up the decision-making process.

Financial institutions spend a lot of time and money physically verifying applicant information. AI can be used to extract meaningful insights from alternative unstructured data sources such as text and images, and to verify the authenticity of the information provided by applicants without the need for a physical examination.
Once a customer activates a credit product, a smart credit rating application that uses AI-based algorithms can help analyze customer behavior in real-time.
For banks, the use of AI and machine learning to enrich the credit risk management process not only results in greater efficiency but also improves fraud detection mechanisms and shortens marketing time.
List of Credit Scoring Company that use Artificial Intelligence
1) Affirm
Max Levchin, Founder & CEO
HeadQuarter: San Francisco, California
Website: https://www.affirm.com/
LinkedIn: https://www.linkedin.com/company/affirm/
2) Avant
Al Goldstein, Co‑founder, and Executive Chairman
HeadQuarter: Chicago, IL
Website: https://www.avant.com/
LinkedIn: https://www.linkedin.com/company/avant-us/
3) ZestFinance
Mike De Vere, CEO
HeadQuarter: Burbank, California
Website: https://www.zest.ai/
LinkedIn: https://www.linkedin.com/company/zestfinance/
4) Habito
Daniel Hegarty, Founder and CEO
HeadQuarter: London, England
Website: https://www.habito.com/
LinkedIn: https://www.linkedin.com/company/habito-/
5) Aire
Aneesh Verma, Founder & CEO
HeadQuarter: Washington, DC
Website: https://aire.io/
LinkedIn: https://www.linkedin.com/company/aire-io/
6) Naborly
Dylan Lenz, Founder & CEO
HeadQuarter: San Francisco, California
Website: https://www.naborly.com/
LinkedIn: https://www.linkedin.com/company/naborly/
7) CreditVidya
Abhishek A. Co-Founder & CEO,
HeadQuarter: Hyderabad, Telangana
Website: https://www.creditvidya.com/
LinkedIn: https://www.linkedin.com/company/creditvidya/
8) UpStart
Dave Girouard, Founder & CEO
HeadQuarter: San Mateo, CA
Website: https://www.upstart.com/about
LinkedIn: https://www.linkedin.com/company/upstart-network/
9) ADF (Applied Data Finance)
Krishna Gopinathan, Chief Executive Officer
HeadQuarter: SanDiego
Website: https://www.applieddatafinance.com/
LinkedIn: https://www.linkedin.com/company/applied-data-finance/
10) CreamFinance
Patrick Köck, Group CEO
HeadQuarter: Mexico City
Website: https://www.creamfinance.com/
LinkedIn: https://www.linkedin.com/company/creamfinance/