aiTech‌ ‌Trend‌ ‌Interview‌ ‌with‌ ‌Jeroen Hendriks,‌ Co-Founder‌ ‌& ‌CEO‌ ‌of‌ ‌CartUp‌ AI
Neuralis
October 22, 2021
836

16 minutes read
What do you do at CartUp AI, and what do you build with your team?
My role, as CEO at CartUp AI, is to conduct our orchestra in such a way that customers are delighted, investors are on board and our company value is increasing exponentially. I succeed in my role when I give our team, which is the orchestra that delivers the music, all the direction and supports it requires to do their job.
What we're building is AI-based personalization technology for e-commerce merchants, that turn their shoppers into buyers.
What are some of the distinctive features of CartUp AI that differentiate you from your competitors?
Most of the current vendors in our industry do not achieve in solving the personalisation challenge for the merchant customers. They are not able to work with data from various sources holistically, they don't succeed in recommending the right combinations of products effectively, are often relying on a lot of manual work from the customer's e-commerce teams, and take a lot of time and effort to implement properly.
Our technology turns this around, we work with real-time browsing, transaction, and product data to update visitor signals and product signals in real-time, providing relevant recommendations and search results. We do this fully automated, applying the full power of deep learning, machine learning, natural language processing, embeddings, and neural networks.
We've also succeeded in automating most of our deployment steps, meaning we can make a new customer live in a couple of 1-hour meetings, without a lot of need from the customer's IT departments.
Last but not least, we are fully e-commerce focussed and obsessed with delighting our customers. We see larger vendors either serving many industries alongside the e-commerce industry, resulting in sub-optimal solutions. Secondly, most of our competitors have started as fully rule-based solutions. They now start to add some AI on top or buy AI-based solutions that they try to bolt onto their rule-based systems. The result is never great and always sub-optimal. We also see larger competitors becoming complacent. It may be the first-mover disadvantage.
Our solution is AI-first, we are customer-obsessed, and have the eagerness, ambition, and energy to truly go the extra mile for our customers. This is demonstrated for example through our satisfaction guarantee and our performance-based price models.
How AI is shaping the future of personalization digital experience?
AI is touching every aspect of personalized digital experience. Some of the ones I found to be interesting are:
AI-based product recommendation engine: AI-based product recommendation systems delight shoppers with highly relevant and personalized recommendations. With personalized recommendations, customers see relevant products which make them say, "that's exactly what I'm looking for," leading to customer satisfaction and a fabulous digital experience.
Website personalization: Rather than providing a single and broad-based customer website experience, AI can create customized digital experiences for each shopper that is unique and tailored to his/her needs and desires.
Personalized search: AI-based search, leveraging NLP/AI, decodes customer queries and understands the customer intent like a human does and maps the customer intent with past behavior return results and content that is unique to the customer, taking the customer digital experience to the next level.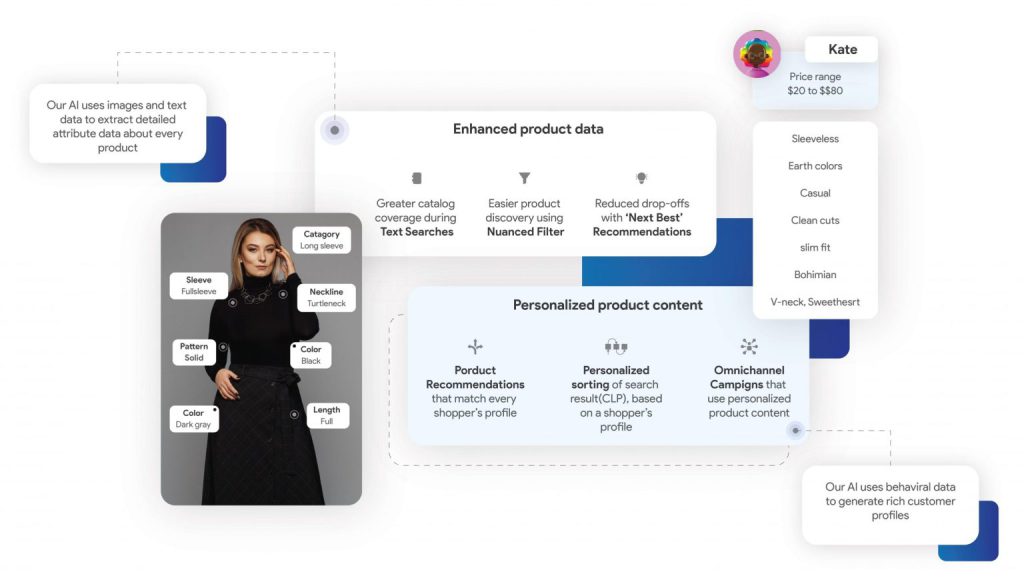 Visual and voice search: Visual search uses computer vision to search using an image. Customers can upload an image and the search engine returns results basing the uploaded image. This is immensely useful if a customer cannot express things in words. Voice search uses voice recognition and NLP to decode the customer question and return results making typing redundant. Both contribute to enhanced customers' digital experience.
Instore experience with AR/VR: With AR/VR, customers can virtually experience the instore digitally from the comfort of their houses. Customers can also virtually try products, experience products, and even help producers digitally design new products. All leading to great customer delight.
AI-based shopping assistants: AI applications such as voice chatbots, voice assistants, and other speech-enabled apps can use NLP/NLU to understand human language and interact with humans via mobile and online platforms.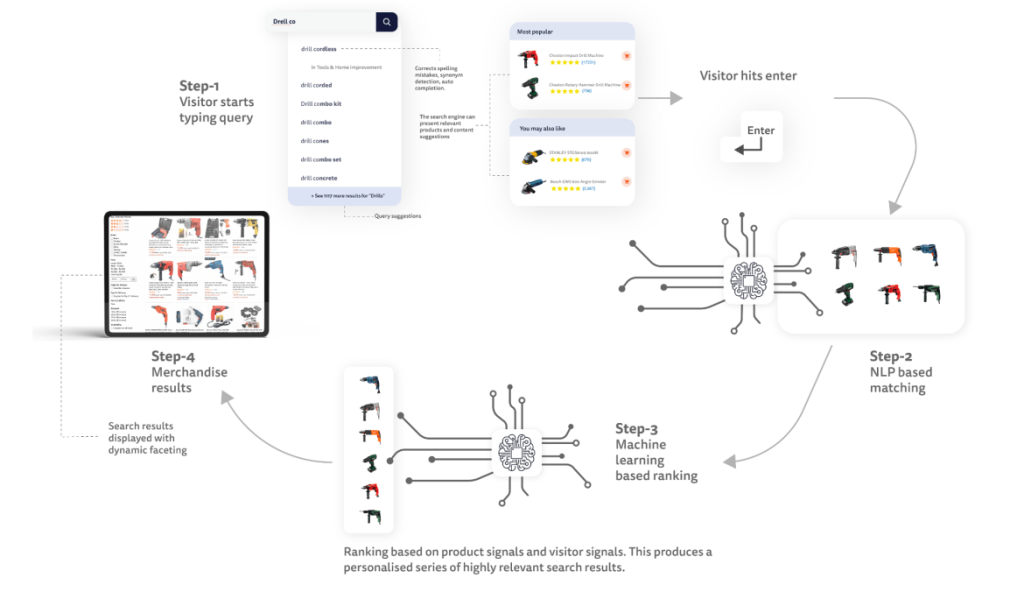 What trends have you seen emerge in Artificial Intelligence for Ecommerce in the past couple of years?
AI is affecting every area of e-commerce from recommendation to inventory to logistics. Some of the emerging trends in Artificial Intelligence that I found to be of great value are:
Moving from personalization to hyper-personalization: Plain personalization is not enough. Plain personalisation segment similar-looking shoppers and map personalization to each of the segments. Mostly, content and collaborative filters are used for plain personalization. Hyper-personalization is 1-1 to personalization. It recognizes that no two customers are alike. Hyper-personalization is highly data-intensive and applies cutting-edge AI methods such as deep learning and neural networks. Studies after studies have proved that more personalization, better are conversion rate, and customer loyalty.
Blurring the line between offline and online stores: Augmented and virtual reality, which are part of computer vision, are playing a big part here. AR and VR can be used to virtually try products before shoppers can buy and create the in-store experience. Similarly, a visual search which allows shoppers to upload an image and find the products. The technology behind visual search can "reads" the item for clues — shape, size, colour and brand to help the shopper find exactly what they are looking for right away. Also, virtual shopping assistants are creating a more interactive shopping experience for the shoppers. Virtual shopping assistants are faster than humans, can analyze huge quantities of data in real-time, and perform human-like interactions for the in-store shopping experience.
AI-enabled dynamic pricing. Price can make or break the shopper's decision. AI-enabled pricing is all about using AI to match supply and demand to set a price in real-time. With correct data, dynamic pricing technology can predict when to discount & what to discount and can also calculate the exact discount rate to maximize the overall sales and profits.
Can you give us a sneak peek into some of the upcoming product upgrades that your customers can look forward to?
Easy enablement: We are at present working on an integration strategy of our products with e-commerce platforms such as Shopify that is simple, innovative, can be done by the customer himself/herself without the need for our intervention and, also at the same time, easy to maintain and manage. This is an important step as we are planning to be on the app store of Shopify. Moreover, we plan to pass on the cost savings to the customer resulting in even better competitive pricing of our products.
Making products ready for the cookieless world: Stricter data regulations are ensuring that we will be in a cookieless world. We are working on evolving our products to deal with this cookie-less world through anonymous personalization, where clickstream data is the basis of personalized recommendations and search and not the information present in the cookies.
Headless commerce: We are separating the front end and back end of our products. This type of architecture will offer the e-commerce companies the freedom to build whatever and however, they want from our products. This will enable e-commerce companies to enrich the shopping experience even further.
Apart from the above, we are constantly evolving our existing products with newer innovations. We are working on recommendation algorithms 2.0 to make them even more relevant and accurate. Similarly, we are working on the search to make it more personalized. We are planning to include visitor and query signals to make our search even more personalized. Also, we are including newer features such as voice and visual search. We also are working on a merchandising product.
How do you keep pace with the rapidly growing AI solutions product for businesses?
To keep pace with rapidly growing AI solutions in our space, we make innovation a continuous process. We embrace change. We welcome new ideas from our customers and our team alike. We discuss innovation within the team and explore what the future holds. We keep an eye on new technological trends that can impact our markets in the near and far future. We audit our products vs our competition to get new ideas. We focus on metrics and KPIs that track our product vs our competition. We focus on building a tech infrastructure as open as possible to embrace any innovation that comes our way. We focus on people, attract the right talent and go the extra mile to retain them.
Where do you see the biggest areas of improvement for Data-Driven Intelligence?
There are two areas in data-driven Intelligence where I feel there is a need for lots of improvements. The first one is data preprocessing. Data preprocessing is the first step in data-driven intelligence and often the most important, as the quality of the intelligence itself depends on the quality of data. There is a multitude of challenges that are yet to be resolved properly. The challenges are mostly to do with missing data, data inconsistency, dealing with different data formats, dealing with different numerical formats, wrong data, etc. Even in these times, we need considerable human intervention to get data preprocessing right. The second area of improvement is dealing with real-time data. Real-time data is hard to handle because it is continuously generated from a vast variety of sources and devices. In particular, bandwidth limitations, latency issues, and compatibility between devices make it very challenging. Many of today's widely used big data technologies such as Hadoop are not designed to handle real-time data. Moreover, there are very few professionals in the world that can handle the problems related to real-time data perfectly. This area needs urgent research.
What is that one quote that has stayed with you throughout your professional life?
Focus focus hokus Pocus! Real magic only happens as a result of true focus, which results in expertise and differentiation. Focus is an important condition to excel at what we do. This is very much true for start-ups, where the resources are scarce
---
Bio for Jeroen /CEO of CartUp AI
Jeroen Hendriks is CEO of CartUp AI, a technology leader in AI-based eCommerce conversion maximization. He brings 25 years of business experience, delivering digital transformations working with companies such as Shell, and Accenture. He has been working with eCommerce managers for the last 18 months solely focusing on the technology that is best suited to drive the conversion of eCommerce visitors. Together with his partner Arvind Rapaka, a Silicon Valley-based AI and Big Data guru, he is helping eCommerce companies deliver immediate sales increase with cutting edge AI technology, combined with a genuine understanding of converting digital transformation into bottom-line results.
Bio for CartUp AI
CartUp unleashes artificial intelligence (AI) for retailers across digital e-commerce channels to deliver captivating experiences. All critical functions are pre-built, easily integrated, and SaaS-based. Realize your transition to genuine hyper-personalization with CartUp AI.